Fenton, Fenton, Smith, Reneau & Moon, P.C.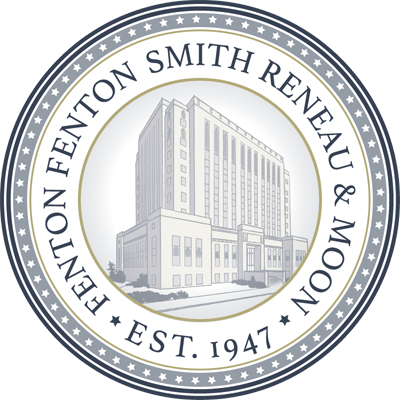 A Professional Corporation
One Leadership Square – 211 N. Robinson, Suite 800N
Telephone No.: (405) 235-4671 Telecopier No.: (405) 235-5247
Our firm is primarily engaged in litigation of all business, professional, employment, tort and insurance matters in all state and federal courts in Oklahoma. Our goal is to examine each client's legal problem and implement a solution that best meets the client's objectives. That may be positioning the case for settlement or preparing the case for trial and, if necessary, an appeal. Our offices are located in downtown Oklahoma City, but our clients exist throughout the Sooner state and U.S.
The firm was founded in 1947 by Edgar Fenton, one of the authors of Oklahoma's first workers compensation statute enacted earlier in the 20th Century. As others joined him the firm became one of the premier insurance defense firms. Since then it has maintained this core identity, but broadened its litigation experience into other areas. A team of experienced "of counsel" provide property, probate, civil rights and employment expertise to the corps of litigation attorneys who handle insurance, personal injury, business tort and workers compensation lawsuits.
The firm, originally Fenton & Fenton, was founded in 1947 by Edgar R. Fenton (1890-1977), who had established a successful law practice, and his son, Elliott C. Fenton (1914-2015). The firm's practice was initially concentrated in the areas of suretyship, insurance coverage matters, and the defense of a wide range of personal injury and property damage matters. The Fentons were later joined by William G. Smith (1919-1993), Dale Reneau (1931-2017) and Milton Moon (1921-1988) and the firm became known by its current name in 1965. The firm has retained the name Fenton, Fenton, Smith, Reneau & Moon in honor of the long established tradition and reputation in the legal community.
Practice Areas
Fenton, Fenton, Smith, Reneau & Moon commits many of its resources to general liability and insurance defense (including workers compensation) representation in state and federal courts in Oklahoma. This means our lawyers are representing clients in a wide range of litigation matters, including the following:
Litigation
The firm has had particular focus in recent years representing insurers in "bad faith" litigation. In these cases Fenton, Fenton, Smith, Reneau & Moon has represented auto, health and liability insurance companies who have been sued for alleged breach of the obligation of good faith and fair dealing. In some instances this "first party" representation has been of insurance companies who also in other instances assign the firm "third party" cases to defend their insureds.
Products Liability
Several of the firm's seasoned lawyers are engaged in representing product manufacturers and distributors who have been sued for alleged manufacturing defects in personal injury cases. The firm has represented large international manufacturers, including in the auto industry, as well as Oklahoma-based component part manufacturers. This area of practice has also included oilfield-related accident litigation and agriculture product litigation. The firm employs the assistance of the best scientific and/or technical experts in the pertinent fields.
Personal Injury
Since its beginning the firm has provided legal representation of individuals and businesses who have been sued for alleged negligence in personal injury matters. Sometimes these assignments have come from liability insurers, self-insured corporations, or from individuals or small businesses. Our lawyers are especially versed in medical issues that may arise in such litigation. They also obtain the assistance of the best board-certified physicians to review claims and advise on the defense of such actions.
Medical Malpractice
Our team of Fenton lawyers represents physicians, hospitals, nurses and other skilled medical practitioners, including mental health professionals in litigation against them for alleged breaches of the standard of care. Several members of the firm also have substantial expertise and experience defending long term care providers in complex litigation.
Workers Compensation
The very first day of the Fenton firm was a day in the then Industrial Court. Since that time the firm has represented thousands of small and large businesses in the Oklahoma Workers Compensation Court and done so in a manner consistent with the professional standards of Edgar Fenton. Our tireless team of workers compensation attorneys appear in Oklahoma City and Tulsa courts every week to represent the interests of business and workers compensation insurers as aggressively and competently as possible.
Transportation
We provide extensive litigation management and representation to our transportation clients. Our attorneys have extensive experience defending trucking companies, railroads, overnight shipping companies, common carriers, emergency and non-emergency medical transport companies, taxi and limousine operators, bus lines, and aviation companies.
Property & Probate
We consider our corps of property and probate lawyers to be the best in Oklahoma. They provide service for individuals who plan for their estates as well as to those families who unexpectedly need help at such a stressful time. These lawyers also provide assistance in land transactions for individuals and businesses throughout the state; and for enterprising individuals who wish to launch new corporations or partnerships in Oklahoma.
Commercial Law
Our counseling and trial work in the commercial area is as diverse as our corporate clients. It involves contract disputes, construction issues, property disputes and many other challenges that meet businesses. The work occurs at federal and state court houses, arbitrations, mediations and settlement meetings.
Civil Rights
Our lawyers have represented individuals and employers in civil rights actions. This includes the representation of law enforcement officers and departments who face possible liability as a consequence of their official actions.
Contact Us
Our offices are located on the eighth floor, north tower, of Leadership Square at the corner of Robinson Avenue and Robert S. Kerr Boulevard in downtown Oklahoma City.
Fenton, Fenton, Smith, Reneau & Moon, P.C.
211 N. Robinson, Suite 800N
Oklahoma City, Oklahoma 73102
Voice: 405-235-4671
Fax: 405-235-5247
Email: frontdesk@fentonlaw.com